Destination Wedding – In Las Vegas
Your Dream Wedding In Las Vegas – Chapels & Casinos!
If you are considering a destination wedding, why not get married in fabulous Las Vegas? What an amazing place to tie the knot!
There are a myriad of wedding venues to choose from and a wedding package to suit every wedding budget. You can even get hitched in a special chapel ceremony. Las Vegas wedding chapels come in all shapes and sizes from traditional to drive-thru services.
Or maybe you would like your wedding to take place aboard a gondola on Lake Las Vegas or above the Las Vegas Strip in a helicopter?
You have the choice of a nearly infinite number hotel venues, such as the famous Caesars Palace or the Bellagio.
The Grand Canyon offers a spectacular destination for your weddings, or you could opt for an Elvis themed occasion and be picked up by the great man himself in a pink Cadillac! Whatever kind of wedding day you desire, it can be arranged, here in the Casino town of Las Vegas. Choose from a really (can't stress this enough!) vast variety of personally crafted packages to suit most wedding budgets.
The weather is usually excellent in Las Vegas but remember that it can be very hot at the height of summer, especially if you choose an outdoor wedding venue. It's also worth considering that you might need to book early as the most popular dates, e.g. Valentines Day or New Year's Eve book up quickly.venue
How Much will My Dream Wedding In Las Vegas Cost?
Las Vegas can provide a wedding day to suit every taste and budget. A fully inclusive package begins at £199 for a drive-thru chapel ceremony through to £1200 for an elegant dream wedding at the beautiful Bellagio hotel. This includes all costs – including licence fees. There are always attractive promotions available, offering you great deals. Whatever wedding package you choose you are guaranteed to have the most perfect, romantic day.
Return flights cost from under £400 and hotel prices begin at under £100 a night per room.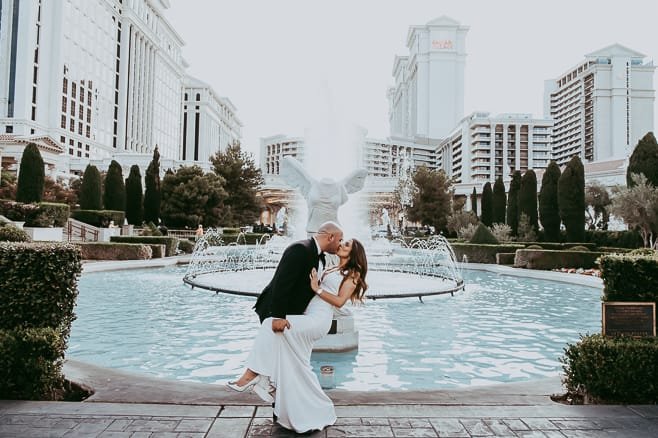 Viva Las Vegas!!